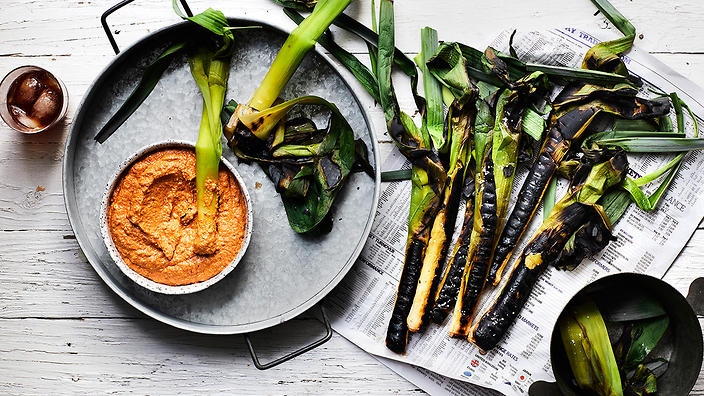 Charcoal-Grilled Leeks With Romesco Sauce
Ingredients
3 bn

young leeks,trimmed of all -but 2-3 of

LEEKS

1/2 c

olive oil

1/2 T

olive oil

SAUCE

1 sl

white bread

1/4 c

whole almonds,toasted

1/8 t

red pepper flakes

1 sm

clove garlic,chopped

1 md

red bell pepper,cored, -seeded and,Cut Up

1/4 lb

ripe tomatoes

1/8 t

paprika

1/8 t

salt

1/4 t

black pepper,Ground

1/8 c

red wine vinegar

1/4 c

extra-virgin olive oil
Instructions
Heat 1/2 tb oil in a small skillet and, over medium heat, fry the bread slice until golden on both sides.

Grind the toasted almonds finely in a food processor, together with the bread, pepper flakes and garlic.

Add the red pepper, tomatoes, paprika, salt and pepper, puree to form a smooth paste.

Whirl in the vinegar.

With the motor running, add the oil slowly in a thin stream.

oil slowly in a thin stream. Taste for seasoning. Reserve.

Cut the leeks in half lengthwise down to within 1" of bottom, or root end.

Rub them quite generously with olive oil and cook them over a covered charcoal grill until they are very tender or golden.

Depending on their size and cooking method, they may take from 30- 60 minutes.

Turn occasionally while cooking.

Serve the leeks warm with Romesco sauce on the side.